The Inn's Festival – third edition 2013
24 October 2013
No Comment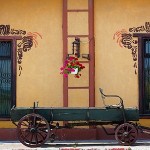 Between October 25 and 27 2013 will take place in Tupilati commune the third edition of the Inn's Festival. The event is organized by ANTREC in partnership with Neamt County Council and Tupilati City Council during the project ProMoVal – promoting local touristic values through events.
The program of the festival
Friday, October 25 2013
13:00 SADOVENIANA 2013
– Location: Neamt County Library located in Piatra Neamt, "Visarion Puiu" Memorial Museum, Mihail Sadoveanu from Vovidenia, the Cultural Centre from Tupilati commune and Ancutei Inn
– Organizers: ANTREC in collaboration with Neamt County Writers Society and the Cultural Centre from Tupilati
– At the event will participate writers, historians, critics, professors from Iasi, Piatra Neamt, Roman, Targu Neamt and Tazlau
– The event will be organized in the form a symposium with the occasion of 1330 years from the birth of the writer and 80 years from the first edition of the book "Creanga de aur" (The Golden branch). With this occasion it will also be evoked the personality of I. I. Mironescu, a good friend of Mihail Sadoveanu.
– The theme of the symposium will be: The Mythology of the mountain in the writings of Mihail Sadoveanu
– Personalities that will participate at the event: professor dr Constantin Dram from A. I. Cuza University from Iasi, writers dr Cristian Livescu, professor dr Lucian Strochi, professor Constantin Tomsa, professor Cezar Tucu, professor Violeta Lacatusu, professor Gheorghe A M Ciobanu, Virgil Savi, Dan Iacob, Mihai Hanganu, professor Gheorghe Braescu and arhim. Mihail Daniliuc from Mihail Sadoveanu Museum from Vovidenia.
– During the symposium will also take place book exhibitions, a pilgrimage on the footsteps of the writer and the launch of number 33 of "Antiteze" Magazine with a special section dedicated to Mihail Sadoveanu.

Inns festival Neamt County 2013
Saturday, October 26 2013
10:00 The presentation of the participants and the opening speeches
11:00 The departure of the convoy formed by allegoric carts from Tupilati City Council towards Hanul Ancutei
12:00 Folkloric program
20:00 At Ancutei Inn there will be wine tasting, poetry recitals and folk music
Sunday, October 27 2013
10:00 Infotrip: Stephen the Great Monastery from Razboieni, Ethnography Museum in Tarpesti, Neamt Fortress, Neamt Monastery, "Mihail Sadoveanu" Museum from Vovidenia and "Dragos Voda" Bison Reserve