Neamt County at the Romanian Tourism Fair 2013
19 November 2013
No Comment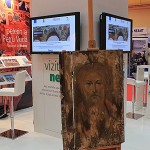 Invitation to Neamt County
Tourists from everywhere, we invite you to come to this blessed place, where you can experience unique things: you can climb the height of Ceahlau Mountain, to be the master, even for a second, to all that you can see with your eyes, to feel the force of the stone formations, to listen to waters that talk about legends of Bistrita, through mountains and planes, to knock at Neamt Fortress gate, to find out secrets of our history, to visit the monasteries and to drink a cup of wine listening to old stories at a camp fire.
No matter how many places you visited and how many people you've met, a trip to Neamt County will be worth it.
Under the theme "Holiday in Neamt County", between November 14 and 17 2013, Neamt County Council participated at the 30 edition of Romania's Tourism Fair, organized in Bucharest at Romexpo.

Romanian tourism fair the 30 edition 2013
Neamt County stand attracted visitors through originality and the message transmitted with the help of photos and videos about touristic attractions from Neamt County and with some beautiful religious icons on wood and glass. A special moment was also represented by a live demonstration of painting by painter Ciprian Istrate.
At the edition from this year Neamt County Council offered to visitors the touristic options in the form of a brochure with touristic routes that can offer a quality vacation of 4 to 5 days.
The tourist has a map of the route, including the length, ways to travel, information about touristic attractions, ways to spend the free time, events and accommodation facilities. Neamt County also received the visit of Maria Grapini (the Minister of IMMs Businesses and Tourism), Razvan Filipescu (the President of the National Authority for Tourism), the ambassadors of Mexico and Argentina.