The archives exhibition at the History and Archeology Museum from Piatra Neamt
26 November 2013
No Comment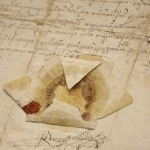 Between October 31 2013 and January 10 2014 will take place an archive exhibition at the History and Archeology Museum from Piatra Neamt. The organizers of this event are Neamt County Council, the Museums Complex from Neamt County and Neamt County Archive Service. During the exhibition you'll see a series of documents: diplomas, maps, photos, letters and so on, documents that cover about 500 years of history from 1453 to 1954. The opening of the exhibition was presented by professor Nicolae Dumitrascu.
The exhibition contains documents and photos related to Neamt County. Visitors will have the chance to see family and administrative documents from the life of some important persons that lived in this area, even if was just for a period of time. There are some letters from archbishop Melchisedec Stefanescu, a letter from Dimitri A Sturza to Carol I king and letters from Nicolae Iorga to Gheorghe Tudoran or from Alexandru Vlahuta to Paul Bujor.

Neamt County Archives Exhibition
The exhibition also contains documents from the XVI and XVII centuries like Aurelii Augustini, De civitate Dei, Paris, apud Guillaume Merlin & Sebastien Nivelle, 1571 or Annales Sacri et Profani, Frankfurt, 1611. The birth certificates of Sergiu Celebidache and Constantin Matasa can also be seen in this exhibition along with the death certificate of Veronica Micle.
The visiting program os from Tuesday to Sunday from 09:00 to 17:00.