Piatra Neamt prepared for the winter holidays
19 December 2013
No Comment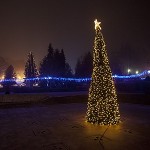 Starting with December Piatra Neamt is dressed in holiday clothing and the main boulevards look like in a fairytale. Tens of light models were well positioned to enhance the beauty of this town.
Christmas is that time of the year when the entire town celebrates. Christmas trees, decorations, garlands and light that are placed on pillars and trees create a magical atmosphere while waiting for the arrival of Santa Claus. "Curtea Domneasca" Plaza from Piatra Neamt was beautifully decorated. This is the place where every evening people come to take a walk and spend some the time in the presence of the magical lights and the smell of mulled wine with honey.

December 2013 lights in Piatra Neamt
In this fairytale town is time for the winter holidays. Everywhere you look you can see the beautiful atmosphere characteristic for this time of the year. We invite you to Piatra Neamt to celebrate Christmas and to enjoy the winter holidays.