The Art Museum from Piatra Neamt 2013
19 December 2013
No Comment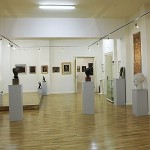 This year was the re-opening of the Art Museum from Piatra Neamt after a period of time when the museum was closed for restoration during the program for "Restoration and value of Curtea Domneasca Plaza". The museum hosts a wonderful collection of objects that are representative for Romanian art.
The rooms of the museum are located at ground floor, first floor and attic. At the ground floor visitors can see four rooms. Room 1 exhibits objects specific to Romania that have European influences. Room 2 is a lesson about metaphor and color. Room 3 represents the between the two world wars period and Room 4 is dedicated to Iulia Halaucescu. The first floor has two rooms. Room 5 contains postmodern and contemporary art and Room 6 exhibits the works of Aurelia Vasiliu – Ghiata and Dumitru Ghiata. In the attic there is a room where you'll see temporary exhibitions.

The Art Museum from Piatra Neamt 2013
The Art Museum from Piatra Neamt represents a panoramic vision over the evolution of art from painting to graphics, sculptures, tapestry, created by Romanian artists at the end of XIX century and during the XX century. You'll see works by sculpters like Ion Irimescu and Ion Jalea or paintings by Gh Petrascu, Fr Sirato, St Popescu, N Tonitza, I Tuculescu or Corneliu Baba.