The Festival of Customs and Traditions "Steaua sus rasare" the 45 edition December 20 2013
19 December 2013
No Comment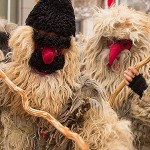 Friday, December 20 2013 will take place in Piatra Neamt the 45 edition of the Festival of Customs and Traditions "Steaua sus rasare". The event is organized by "Carmen Saeculare" Cultural and Art Center from Neamt County and will take place in "Curtea Domneasca" Plaza.
Some of the most spectacular bands will participate at the edition from this year. Here some of the bands that will contribute to this festival: "Botnenii" from Moldova Republic, "Cerbu" from Iasi, "Izvorul Izei" from Maramures, "Ursii" from Bacau and 9 other bands from Neamt County like "Miorita", "Asa-I datina la noi", "Izvoarele Borcutului", "Banda lui Bujor", "Sumanarii", "Floricica de la munte" and some others.

"Steaua sus rasare" Festival dec 2013 Piatra Neamt
The parade will begin at 12:00 on the route Tineretului Theater – The History and Archeology Museum – Ceahlau Hotel and back to Tineretului Theater. After the parade the bands will perform their dances on the stage organized in "Curtea Domneasca" Plaza starting with 13:20.
The groups of carols singers, the masked dancers will welcome visitors with the beauty of these winter traditions. The archaic dances of the bear or the goat will be performed in memory of the old year that will finish soon and for welcoming the new year.