Traditional dances for winter holidays in Neamt County
19 December 2013
No Comment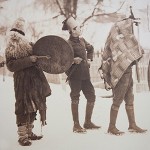 The dance of the "goat" is a ritual that is meant to bring good luck in the following year and many new animals to shepherds. The "goat" is a masked man with a large costume and a stick with a carved head that resembles a goat head. The lower jaw is free so the dancer can move it, hence a specific sound of clap-clap. Around the "goat" there are also different singers and other masked men.
Another custom is to walk with the "bear". This is a geto-dac custom that is about good fortune in houses and fertile soil. The "bear" is a lad dressed in a fur with a bear head on his shoulder. While he is dances in the rhythm of the drums the men around him are singing specific songs and can be also masked as different animals.

Traditional winter dances
Another dance from this area is the "horses" which is the symbol of forever young. The dance is performed of course by young people dressed as horses that dance to express the sacred connection between man and his trusty animal.
The custom of the "plow" contributes at the general happiness characteristic to winter holidays. The "plow" is usually performed by children that use bells and whips in their interpretation.