Ion Creanga Memorial House as an architectural monument
28 January 2014
No Comment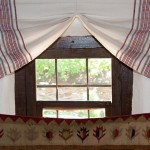 If you visit Humulesti Village you'll find, hidden between new constructions, after a traditional fence and a high gate, an old small house carefully preserved, where you'll rediscover the memories from your childhood, together with the legacy of our greatest story teller, Ion Creanga. The house where the writer was born is a true architectural monument.
Here was the place where his mother weaved their clothes, while his father was busy working the field and trading. During summer the children were happy and playing near Ozana River. The visitors will discover trails of how simple life was in those days.

Ion Creanga Memorial House – architectural monument
The Creanga House, with all the things exhibited in it, represents a traditional house often seen on these parts over two centuries ago. Although the house is visited for the fame of the writer it also represents a wonderful architectural monument that was preserved until today.