The exhibition of the Ethnography Museum from Piatra Neamt
28 January 2014
No Comment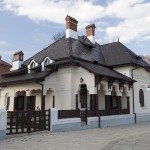 At the end of 2013, the Museums Complex from Neamt County opened a new permanent exhibition at the Ethnography Museum from Piatra Neamt. The project to restore the museum was created to restore the entire Royal Court Area. The museum was part of this project because of the vast ethnographic collection.
The museum presents all three ethnographic areas from Neamt County: Bistrita Valley, Neamt and Roman. The beauty and the diversity of the material permitted the creation of a new theme "The Seasons of the villages" that completes the atmosphere of the village from the XIX century. The exhibition presents the main occupations, the great celebrations, the cultural and religious life of that time.


The objects are exposed either in their real aspect in order to recreate as close as possible the truth or with an accent on the beautiful decorations. The picture of the traditional village is presented with document photographs made by Adolph Chevallier, the photograph of the Romanian Royal Court.
The program for visiting the museum is from Tuesday to Sunday from 09:00 to 17:00.

The Ethnography Museum from Piatra Neamt