Collections of Neamt Fortress
18 February 2014
No Comment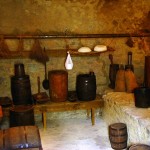 Neamt Fortress is one of the most well known medieval monuments from Romania. The heroic actions that took place here centuries ago, written in archives by historians or writers in the last 150 years created the today image of this fortress.
Neamt Fortress is mentioned in writings like "The Mother of Stephen the Great" by Dimitrie Bolintineanu, the novel "Sobieski and the Romanians" by Costache Negruzzi, the poetry "Neamt Fortress" by George Cosbuc or the pages written by Alexandru Vlahuta.
The collections of Neamt Fortress, according with some archives from Dumitru Constantinescu, were first open for the public in the autumn of 1940. The following years, in 1942 and 1943 brought new additions to these collections.


The military confrontations from 1944 destroyed the collections but the museum was reopened in 1957 at the same time with the opening of "Stephen the Great" Museum from Targu Neamt on April 14. Although the interest of the public was real because of the social and political climate of the era the exhibition will be closed.
Between 2007 and 2008 the monument was closed for restoration and starting with July 4 2009 they reopened the collections of Neamt Fortress in a modern organization. Now you can visit the Armor Room, the Weapons Room, the Judgment Room, The Room of the Ladies, The Trade Room or the Chapel of St Nicolae.