Neamt County participates at the 31 edition of the Romanian Touristic Fair – 2014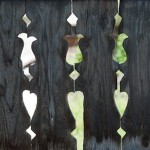 The Romanian Touristic Fair is the greatest event in Romania dedicated to the tourism industry. The spring edition of the fair will take place between March 13 and 16, 2014 at the Romexpo Center from Bucharest in sections C1 to C6 and will be aimed on promoting the touristic offers from Romania and other countries. The event has reached its 31 edition and is organized by Romexpo twice a year with participants from Romania and all over the world.
Neamt County Council will participate at this edition with a personalized stand that will promote the agro-tourism from Neamt County under the title "Eternity was born in a village". The touristic offers contain information on the traditional Neamt County village with its customs, traditions, folkloric art and traditional food products in the beautiful natural environment where these villages are located. Visitors will also receive information on the other attractions from Neamt County.
The local artisan Stefan Grigoriu will offer to visitors an authentic experience in wood carving and sculpting. Neamt County will have its stand in C3 section from Romexpo.
The visiting program will be between March 13 and 15, 2014 between 10:00 and 18:00 and on March 16 from 10:00 to 16:00. The tickets price is 15RON.