Traditional food in Neamt County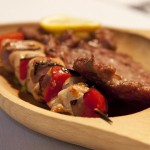 If you wish to return in time and to experience the traditional food of Romania we invite you to visit Neamt County where you'll have the chance to taste the cooking from Moldova region. On these parts people still cook following old recipes kept from generation to generation.
The most well known traditional foods from this area are polenta served with cracklings, steak, cheese and cream, stew, smoked meat, chicken soup and borscht cabbage and pork stew. These dishes are accompanied by delicious ones made of wheat flour: cozonac (a cake with nuts), "poale-n brau" and "alivenci" that are like pies.
For those that don't want to eat meat there are dishes made with vegetables like cabbage, eggplant, beans, tomatoes, peppers, onions, leeks, mushrooms and garlic. The traditional ways of cooking involve baking or pickling in salted, smoked, roasted or stewed. A large portion of food can also be grilled.

Traditional food in Neamt County
All these fine traditional foods can be tasted in some restaurants from Neamt County. The traditional plateau is prepared from smoked pork, homemade sausages smoked, minced meat croquette, bacon, cheese and red onion and is one of the favorite dishes for traditional food lovers.


For dessert you can serve pies like "poale-n brau" stuffed with sweet or salted cheese and other variations of fillings. Another specific type of desert is alivenci pie served with hot garnished with cream. This dish is cooked in the oven in cottage cheese, cornmeal, milk, flour, eggs, butter and cream.
The hospitality of the people from these parts is well known and that is why we invite to come and experience Neamt County with all that has to offer from beautiful environments to traditional food.