Spend the Easter Holidays in Neamt County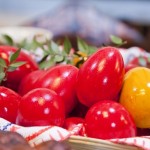 Traditions and gorgeous scenery together with numerous touristic attractions are the highlights that attract year after year more and more tourists to Neamt County and the monasteries from here. Pilgrims prefer to spend the night of Easter near religious settlements and to celebrate this religious moment with piece and prayers.
Those that want to come to Neamt County during this holiday can accommodate at pensions from the area or at the accommodation facilities offered by monasteries. The Easter religious service will be held in all the churches, monasteries and hermitage.

Monasteries during Easter
Tourists will be welcomed with traditional food like cozonac, pasca, painted eggs and other dished made of lamb. The old traditions are kept alive and transmitted from one generation to another. The tradition of painting the eggs is an old one and carried on by the women from Neamt County.


The celebration of the Resurrection is the most important one for the Orthodox believers and represents the day when Jesus resurrected from His grave after His crucifixion in the Big Friday.