Sports for the free time in Neamt County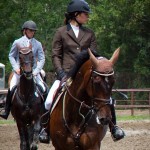 Neamt County through the wealth of the scenery has the ideal conditions for spending free time in outdoors. Here tourists have the possibility to try out different entertainment activities like sports and tourism, fishing, hunting of cycling.
Cycling on mountain roads you can discover the history and culture of places or you can admire traditional wood houses, alpine planes, mountains and enjoy the clear sound of mountain creeks.
Horse riding represents a great way to spend some free time. You can pay for organized rides on horses on mountain trails or you can learn how to ride and view equestrian competitions at Virgil Barbuceanu Equestrian Complex or at the Horse Farm from Dumbrava at 10 km from Targu Neamt.
You can also fish in the flowing waters and the ponds specially created for this kind of activity from Neamt County. Activ Park from Negresti commune offers to tourists different entertainment activities like tree climbing, paintball, archery and traditional food.
Cozla Complex offers rides with Telegondola, skiing and tubing. Tineretului Public Swimming Pool is the place to practice swimming, tennis, handball, roller rides, skateboards and ice skating.
You can also append your free time hiking on touristic trails organized in the natural parks from Neamt County.