The collection of stuffed birds from Piatra Neamt Natural Science Museum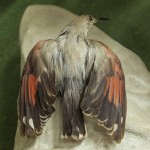 The Natural Science Museum from Piatra Neamt contains a presentation of Neamt County from a geological, floristic, fauna and ecological point. The exhibition of the museum has over 40.000 pieces from the collections of fauna and over 10.000 files of floristic specimens. The museum also has an impressive collection of stuffed birds present in the area of Neamt County.
The visitors can admire some rare birds that are protected by law. These birds are present in Ceahlau National Park or in Sugau Gorge.
Other animals exhibited here have an important role in preserving the equilibrium in nature. These are the prey birds like Aegolius funereus, the pygmy, the singing birds that are large consumers of insects, the crows, the bats, the hedgehog, the mole and the shrew.

The birds exhibition from the Natural Science Museum from Piatra Neamt