"The Spring of Colors" exhibition at the Art Museum from Piatra Neamt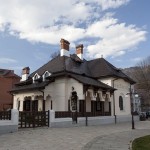 The Art Museum from Piatra Neamt hosts between March 28 and May 15 2014 the temporary exhibition "The Spring of Colors" that unites about 40 paintings of Iulia Halaucescu, also known as "The lady of the Romanian aquarelle". The organizers of this exhibition are Neamt County Council, Neamt County Museum Complex and "Iulia and Petronius Halaucescu" Cultural Foundation.
This event marks 90 years from the birth of the painter on March 31. Iulia Halaucescu was born in Tarcau commune, in the house of the priest Gheorghe Versescu. In 1948 she graduated the Philosophy Academy from Bucharest and in 1953 she graduated "N. Grigorescu" Art Institute from Bucharest.

Iulia Halaucescu exhibition 2014
She studied painting separately with R. Schweitzer-Cumpana considered to be a great artist. She married at the age of 20 with the officer Lucian Petronius Halaucescu that after he retired from the army was a great museologist. He was also the organizer of some of the exhibitions of Iulia Halaucescu.


Many of the works of the painter represent moments from Bicaz and Tarcau. To her natal place, Tarcau commune, she donated some of her goods among which were personal objects, religious icons, furniture pieces and her own workshop.
Through this donation the artist wanted the two places, Bicaz and Tarcau to enter the art circuit. Every year, on March 31 in Bicaz and Tarcau there events in the memory of the painter Iulia Halaucescu.