Visit the traditional villages from Neamt County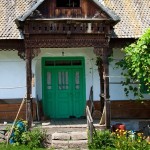 In Neamt County the ancient traditional artistic symbols are kept alive even though it lost their original meanings. The local artisans managed to bring new values to the Romanian art trough the quality of their works.
Neamt County villages still have traditional houses that represent the legacy of our ancestors. In these parts the art of wood working has a great development and the techniques were used in decorating the pillars of traditional houses, gates and old wood churches.
The wood constructions have small sizes and simple construction techniques with beautiful decorations and proportions. Traditional objects are proof of the artistic inclinations of the people that live in these parts.

Visit traditional villages from Neamt County
Among the traditional villages that can be visited by tourists are the monastic villages Agapia and Varatec that still keep the purity of the old traditional village. These two villages are built around the monasteries of Agapia and Varatec and located in a place with a beautiful environment and clean fresh air where small houses with wood like embroideries enchant your eyes.


Another traditional village is Barnadu, located behind the stone walls from Bicaz Gorge, under the peak Ciurgau. The few houses of the locals are made of wood and covered with shingle.
Visiting Neamt County, through valleys and mountain roads, through ridges and hills you'll see traditional villages where you can still see small wood houses that managed to survive the test of time and to offer us a glimpse of the past.