Famous monasteries in Neamt County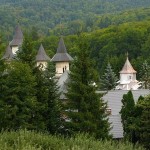 There is no other place in our country where you'll find so many monasteries like in Neamt County. The savage mountains, the thick forests, the peace of the planes and the beautiful valleys were perfect places where the religious life was able to develop. We invite you to visit the monasteries from Neamt County, true places of religious belief and spiritual life.
Neamt Monastery was built in the XIV century and is the oldest religious settlement from Moldova region, also called "The Jerusalem of the Romanian Orthodoxy". Today, inside the walls of the monastery there are two churches, two chapels, the bell tower with 11 bells, "Veniamin Costache" Theological Seminary and a museum. The main church of the monastery was built by ruler Stefan cel Mare and is considered one of the most interesting architectural monuments from its era. Here there is also the oldest monastic library with over 18000 volumes.

Famous monasteries from Neamt County
Sihastria Monastery had an important role in the history of Moldova. Located on Secu Creek the place is famous for the monks that lived, prayed and died here: Father Cleopa Ilie, Father Paisie Olaru, Father Irineu Protcenco and Father Ioanichie Balan.
Agapia Monastery was built by the brother of ruler Vasile Lupu and is known for the interior painting created by the famous painter Nicolae Grigorescu. He managed to combine the neoclassic style with the Byzantine and Romanian style. He painted 29 original works that can be admired in the main church of the monastery and the museum from the same location. In the monastic village from Agapia there is also the Memorial House of the writer Alexandru Vlahuta.


Petru Voda Monastery was built at the end of the XX century in Hasca plane. In 2003 they began construction at the main church that was made in the style of the churches from Maramures area by local artisans from that area. The monastery is famous because Father Iustin Pirvu, one of the greatest monks of our time, lived there. In the yard of the monastery there is also the tomb of the monk.