Neamt County traditions in the works of the local artisans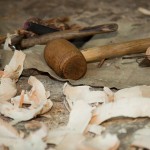 In Neamt County traditions and customs are still kept alive by the local artisans. Tourists that come to visit this place have the chance to know the interesting and beautiful traditions of the villages from Neamt County. A beautiful collection can be found in the works of the local artisans that create objects of true traditional art.
Through their works the artisans from Neamt County bring their contribution to keeping the old traditions and customs alive but also to the further development of traditional art. The artisans create wood sticks carved with different traditional motives, they make traditional masks, wood sculpted objects, weaved fabrics and traditional clothing.
The fabrics created by the artisans are made by following traditional methods of weaving and coloring. The process of manufacturing objects from wool and furs is also well represented in the works of our artisans.
The local artisans from Neamt County help us keep our traditions alive and they also bring their own improvements to the traditional arts.

Traditions from Neamt County in the work of the local artisans