Touristic attractions from Targu Neamt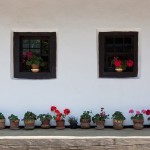 Targu Neamt represents an attraction point for tourists that want to visit places special because of the history, culture and traditions. The touristic attractions from Targu Neamt present to us the history of the area, the customs and traditions but also the funny stories of our greatest story teller, Ion Creanga.
The most well known location is Neamt Fortress that is among the few medieval fortresses that known in Romania. The historic deeds that took placed here and the writings of some famous writers created a special aura of the place. The collections of Neamt Fortress were restored and reopened in 2009 and now the visitors can see some of the rooms of the fortress just like they were back in the glory days.

Touristic attractions in Targu Neamt
"Ion Creanga" Memorial House was built in 1830 by Petre Ciubotariu, the grandfather of the writer Ion Creanga. The old small house sits behind a small fence and represents a true monument of traditional architecture. The museum has all the objects from the time Ion Creanga was a child in that house.


The History and Ethnography Museum from Targu Neamt presents the history of the town and the local trades and traditions. In the yard of the museum there are also some big traditional installations that were used back in the old days to process seed, wood and wool.
"Veronica Micle" Memorial House was built in 1834 from wood and brick and is a relic from another century. The permanent exhibition talks about the life and the literal activity of Veronica Micle.