Summer in CEAHLĂU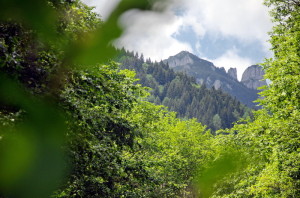 Located within a walking distance (about 10 km) of the city Bicaz and Lake Izvorul Muntelui, Ceahlau draws you like a magnet hugging you to his rocky chest. The Ceahlau, not only a shelter of Zamolxis, but a natural outdoor museum with juniper trees, massive rocks with different shapes, each with its own story, gutters with debris, swift streams flowing waterfalls, unique natural monuments by wildness and beauty. Wandered from ancient times, today The Ceahlău still has its own trails, which you are expected to go through.
Departing from the village of Izvorul Muntelui (797m), 10 km from Bicaz, where you are greeted with cottages, holiday homes, villas and hostels with a total supply of about 60 rooms (can be reached by car on asphalt road) you have three possibilities:
– Route 1 marked with blue dot + blue band (about 3 h) – Red Clay Saddleback (1020m) – The Rock with Water – The "Detunatele" – Dochia Cottage;
– Route 2 marked with blue dot + blue triangle (approximately 4 hours) by Red Clay Saddleback –White Spring Creek – Dochia`s Rock  (1185 m) – The Gutter with Border – Dochia Cottage;
– Route 3 marked with the red band (about 7 h) through Nuns Meadow(1328 m) – Miron`s Haystacks – Wide Rock – Dochia Cottage;
Departing from Durău Resort (800m) (can be reached by car on Route 15, from Bacau) you can cross the mountain:
– Route 4 marked with the red tape (about 3.30 h) on "Fantanele" Cottage (1220 m) – Dochia Cottage;
– Route 5 marked with red cross (about 5h) by Badgers Glade (1195 m) – The "Duruitoarea" Waterfalls (1250 m) – The "Scãiuş" Meadow (1400 m) – Lame Foot Saddleback – Dochia Cottage
You should know that the of the foot of the mountain, in the Durău Resort are over 40 hostels, hotels, villas, holiday homes, with a total of about 900 place to stay waiting for you to cross theirs threshold.  Here you can spend the night at the Pastoral Cultural Center "Saint Daniil the Hermit" or  to the beautiful Monastery Durău, orthodox shrine of nuns and historical and architectural monument, whose church will delight you with walls painted by Tonitza. In summer, the resort is home to the festivals that highlight the traditions and customs of this piece of heaven (Ceahlău Mountain Festival, The International Festival of Folklore).
Departing from the Neagra village(540m), located on the national road DN12C, Bicaz  – Bicaz Gorge`s, is waiting the route 6, marked with blue cross (about 7h) and passing through Varatec Saddleback (1335 m) – Nuns Meadow (1326 m) – Miron`s Haystacks – Dochia Cottage.
Leaving Bicazul Ardelean (580m) by Telec (680m) to Bistra, on a forest road trail runs route 7 marked with blue tape (about 5.30 h) by Bistrelor Confluence – The Chairs Saddleback  (1247 m) – Stanile Saddleback (1405 m) – Dochia Cottage.
Whatever route you choose for mountain climbing, up there you will find a set of nearly 6 miles long and 1km wide, located at about 1700 m from where you can admire the magnificence of sunrise or sunset, Ocolasul Mare (1907m), Chop Peak (1904m), which can be relatively easily escalate, but also the famous towers in the accompanying legends for centuries, Panaghia, Căciula Dorobanțului, Detunatele, Turnurile Ocolașului Mare.
Stand on the plateau we distinguish steps cut into the rock massif, located on the flanks of the plateau and stretched like so called shelves  – fields of flowers, of which the best known is The Shelf with Lilies.
On this plateau Dochia Cottage is waiting for all travelers to cross its threshold, to sit dine or to spend the night.Also on this plateau, situated at 1770m, is built a new monastery: founded in 1992, The Monastery of Mount Ceahlău is located between rocks in a dream landscape. From up here, on the plateau, you can choose to watch the boundlessness, sometimes when the sky is clear, from Iasi to the Black Sea, and enjoy the rest of the stunning nature of this massive and overwhelming that is always alive whic is Ceahlău Mountain.