By Boat on Mountain Spring Lake
11 August 2014
No Comment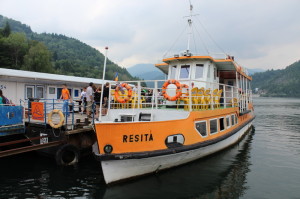 Spring Mountain lake created behind the Dam at Bicaz, is the largest man-made lake arranged on rivers in Romania – known as "Lake Bicaz". It is located 4 km from Bicaz and 35 km from Piatra Neamt, DN15 national road stretching between Bicaz and large clearing, with a length of 35 km.
Starting upstream from large clearing, the road winds to the left of the lake, On winding roads that descend on the crest of the Bicaz Dam, offering wonderful views. From the belvedere point of Hangu, Massive Ceahlau  can be seen raised above other mountain peaks, dominating the entire landscape and at the same time immersed in the water table.
Bicaz Dam, the largest gravity dam on rivers in Romania, was built between 1950-1960, between Mount Gicovanu and Obcina Horst, having a length of 435 m, a height of 127 m and a width base 119 m. Near the dam, there is a port arranged where tourists can rent boats and hydro-bike or take mini-cruise boat on the lake.
Boating requires a circuit on the lake waves that opens eyes unique landscapes around the lake: the port is going up near the breast of the dam concrete that impress by size, then the boat is heading towards end of the lake, discovering in turn settlements houses of Grozăveşti, Ruginesti, Chiriţeni, Buhalniţa, Hangu, which are seen climbing up the hills near Poiana Largului. Here you can admire the stone viaduct and Linden Rock (Piatra Teiului), unwavering rock in the lake. In return you will admire other legendary rocks of Ghost Mountain – Ceahlau Mountain and then at the White Spring.
Fauna lake contains a variety of species such as barbel, chub, huck, and broad snout, moioaga, roach, trout indigenous lake trout and rainbow trout, bleak, gudgeon and bream. Fishing enthusiasts will find plenty shores places for their passion. By the lake Spring Mountain in Potoci is arranged a trout farm where you can enjoy a freshly caught trout from the lake.
In the area you will discover Biological Research Station Potoci – Bicaz of "Al. I. Cuza "University Iaşi, the only place in Moldavia where you can go diving. Tourists are able to accommodate right on Bicaz lake or harbor where there are many hostels and motels, and the only floating hotel-restaurant on mountain lakes in the country. Those who wish for freedom can be accommodate on tent, and those that are installed near the water can fish and sunbathe freely.