Ceahlău Mountain Festival
11 August 2014
No Comment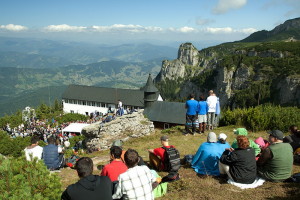 Ceahlău Mountain Festival, organized by Neamt County Council in partnership with Ceahlău Village Hall, the National Tourism ANTREC Romania and, not least, the Department of Administration Ceahlău National Park will take place this year on 2-4 August near religious feast "Transfiguration" (August 6) when is the patron of Mount Ceahlău.
Are expected at the mountain feast from Durău resort both residents and those neighboring Ceahlău communes: Grinties, Poiana Teiului, Hangu, Tasca, Bicazu Ardelean, Bicaz-Chei, Bicaz and Romanian and foreign tourists are in the area.
Ceahlău Mountain Festival and "Transfiguration" are manifestations that continues an old tradition which the priest Constantin Matase used to say: "Thus, in ancient times, it is customary neighboring villages may just inherited the tradition of the pagan inhabitants of another time, near the Ceahlău, that once a year, on "Transfiguration Day" the people to climb up the peak, where, after a priest committed a prayer, follow the feast on the lawn and then games and shriek of the air throbbed. Since the night, in the morning of August 6th swarms of villagers climb up the mountain in celebration port, meeting above the village with the village ".
Custom store nowadays and is a special event in the life of local people, Ceahlăul being considered by today's "Holy Mountain" – the only Romanian mountain which is his dedication.
We invite young and old, to come to the foot Ceahlău the resort Durău and participate with the villagers in this celebration.
EVENT SCHEDULE
Saturday, August 2nd, 2014
12.00 – 20.00 – Exhibition of folk art (in the Monastery Durău parking)
15.00 – 22.00 –Folklore show in Neamt County (near ski slope)
 22.00 – Laser Show
Sunday, August 3th, 2014
10.00 – 20.00 – Exhibition of folk art (in the Monastery Durău parking)
14.00 – 14.30 – Parade costumes (the streets of resort Durău)
14.30- 14.45 – The official opening of the event, speeches officials
14.45 – 15.15 – Folk Show offered Elementary School students, Gregory Ungureanu " from Ceahlău commune
15.15 – 21.00 – International Folklore Festival "Ceahlăul" seventeenth edition, 2 to 4 August 2014, lasted – August 3, 2014 (located near ski slope). The Festival will perform 10 ensembles in the country and abroad.
16.00 – 18.00 – Skill Contest "cut with chainsaw" Durău resort.
21.00 – 22.00 – Folk Show Folk Ensemble claimed "the mountain flower" of the Center for Culture and Arts "Carmen Saeculare" Neamt (located near ski slope).
22.00 – 22.10 – Fireworks
Monday, August 4th 2014
10.00 – 18.00 – Exhibition of folk art (in the Monastery Durău parking)
10.00 – 17.00 – Symposium on "Tourism in Ceahlău – Present and Perspectives" (in the conference room of the Hotel Bistrita)
10.00 – 13.00 – Section I: "Tourism and Ecotourism"
13.00 – 14.00 – Lunch Break
14.00 – 17.00 – Section II: "Nature and Traditions in Ceahlău"