Războieni Celebration
12 August 2014
No Comment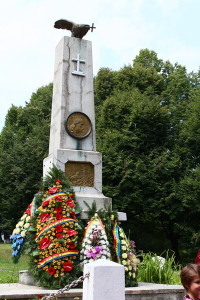 For 45 years now, in July, takes place in the town Războieni, the largest and oldest known event along the basin White Valley, the "RAZBOIENI Celebration" that is closely related to municipal park monument which was erected by the officers of the Regiment "15 Războieni" in memory of soldiers who died in the battle of White Valley, in the reign of Stephen the Great.
The Monument is made by the Alsatian sculptor Wiesenberger, being ushered into the presence of V.A. Urechia, on October 27th, 1879, at an event attended by thousands of people. The first event was held at the initiative of Spiru Haret on August  29th, 1903, when 400 years had already passed since the death of ruler.
"RAZBOIENI Celebration" is held every year over two days, Saturday and Sunday. These days are the event is held at Trinity erected in the White Valley Village, where it is assumed that Stephen the Great had the point of command in confronting with Muhammad's army on July 26th, 1476.
Războieni monastery church was erected by command of the ruler, 20 years later, in 1496. During the five centuries of existence, the Church of Stefan cel Mare suffered multiple interventions, but in the years 1975 – 1977,the holy place is returning to its original appearance. Being built of hewn stone, the church is a structure similar to the foundations of Piatra Neamt and Borzeşti. On the south wall, the right door is the inscription written in Slavonic, after Stephen's desire, which briefly describes the military confrontation in 1476.