Recreational opportunities to Tarcau
12 August 2014
No Comment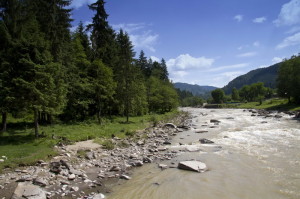 Tarcău Valley is an important tourist area with high potential, where you can meet people of the lands, to enjoy the beauty of the places, to breathe cool air mountain with them. According to environmental measurements in this commune areas are the cleanest air in Romania and without question, you can live too glimpses of what is life in the mountains.
Access to the Tarcau Valley is from DN 15 Piatra Neamt – Bicaz, continuing from the center of the village road DC 135 Tarcău – Ardeluţa, crossing the villages Cazaci, Brateş, Schitu Tarcău and Ardeluţa, following the watercourse way of Tarcău with beautiful meadows and shores with vertical walls of granite and sandstone.
Beautiful landscape that you can admire was the subject's writings of Vlahuţă in "Romania picturesque" and Sadoveanu was inspired by these places, wrote "The Hatchet". If is added the natural uniques that complete the picture of these places and are an invitation for anyone to visit, such as "Gosman Forest Reserve" and "Fauna Reserve Grouse Brateş" we can say that you will be delighted by these amazing places.
Tarcău has a rich cultural heritage including the Museum of Art "Julia Halaucescu", The Monument "Unknown Soldier" dedicated to the fallen heroes of the Second World War, convents and monasteries, some easy, others hidden in the thickets of the forest. Although, the only way to this it is an adventure in itself. Tarcau Commune receives the highest stretch of woodland, totaling hundreds of miles of forest roads used or abandoned on a varied landscape of hills and canyon areas created by the waters of the area. Due to difficult trails for several years organized here, international enduro races.
Visit these sites, accommodate, do hiking and experience an unforgettable holiday!