Solid as Rock 2014
11 August 2014
No Comment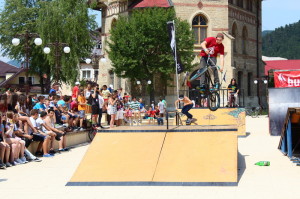 From one year to another, Piatra Neamt generous host becomes extreme sports
– HEPN 2014 World-class sports competition, held this year between June 20 to 22 and the festival "solid as rock" which ran from July 26 to 27.
Organized in 2006 and reached its ninth edition, national awareness event, FESTIVAL "Solid as Rock" promote the sport mountain bike BMX (bicycle for mountain which proves courage and ingenuity in tackling the route), popularized the sport urban or roller skate, and urban youth basketball.
The event is part of a national event which consists of six competitions that take place in six different cities in Romania with the participation of guests from European countries.
In the competition held in Piatra Neamt were conducted 5 sections: Downhill, Streetball, Rollers, Skate and BMX which enrolled more than 400 participants. Downhill competition was conducted over a length of 3km route on Mount Cozla arranged departing and arrival mountaintop plateau of Outlaws huts. In the center of the Royal Court were arranged Skatepark's professional basketball and tennis and here was held the first fair of handmade "rock hard".
In this year's Elite category, the places I have been occupied by Sebastian Grosu (FunRide / DeVinci) and Petra Zăgrean (Bistritz Bike Shop) and on Hardtail – Peter Vereştiuc.
Incendiary gigs presented to each sample and more animated event to the delight of the public present.