The Shadow of The Pyramid and The Way of Heaven – Ceahlău
12 August 2014
No Comment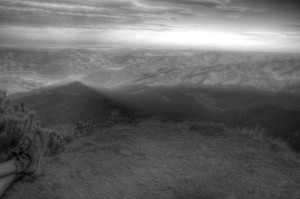 Beginning of August brings on Ceahlău mountain – the Olympus of Moldova, every year thousands of tourists that climbs the mountain with a specific purpose to witness a unique phenomenon in the world, a phenomenon that makes Mount Ceahlău be at least as interesting as Stonehenge and the Egyptian pyramids.
The Phenomenon occurs in the first days of August and reaches its maximum intensity  exactly on August 6th, at sunrise, when the shadow of the tip Toaca combined with tip Piatra Ciobanului shadow form for over 80 minutes, a natural-looking hologram perfect pyramid. This is calledShadowPyramid.
But besides the Shadow of the Pyramid, another short optical phenomenon occurs in Ceahlău, and is the appearance west for a few minutes, the wonderful Ways Of Heaven. The play of light and shadow that accompanies sunrise on Ceahlău Peak,  Toaca shadow is projecting on the sky, the earth and sky merging with a dark road, bordered on the left by a light railing.
The two phenomena were observed in ancient times: around the day of 6th August, the local people were climbing up the mountain and witnessed at sunrise the two wonders of Ceahlău; in "Descriptio Moldaviae" Dimitrie Cantemir talks about Sacred Path, and some researchers estimate that the through peak Toaca pass one of the energetic axes of the globe.
Nowadays, every year, hundreds of people climb the mountain or to witness two miraculous events or to participate in church service on the mountain monastery, on the day of the Transfiguration (August 6th), or both.
Ceahlau is the only mountain in the country with a dedication of his, Transfiguration Day, is the second holy mountain after Mount Athos Orthodox Christianity and, it seems, is the only place in the world where there are two phenomena Shadow of the Pyramid and The Way of Heaven .