Archdiocesan Cathedral Roman
24 September 2014
No Comment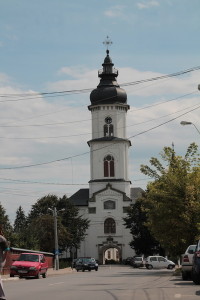 Archdiocesan Cathedral Roman, built between the years 1542 – 1550 by the Ruler Petru Rares represents a historical and religious monument whose architecture is typical to sixteen century, being a continuation of constructive and decorative solutions of the architects and craftsmen of Stephen the Great.
The construction takes the model of the metropolitan church Saint George from Suceava (1514 – 1522), who used as a model the churches from Putna and Neamt Monasteries.
We learn from a document dated since the time of Alexander the Good, that on this place was built a church by the Voivode Roman I.
There are no known circumstances, but we may suspect the reasons that have led Petru Rares to build such an edifice on the place of foundation of the Roman I, giving her the greatness required by rank of bishop, representing a peak of medieval culture and art in Moldavia.
The church assembly whose actual painting has artistic forms belonging to the late Renaissance and Baroque Europe, also includes a chapel, cells, Tower Bell and Bishop's Palace built in 1870.
The church, with dedication day on October 14, hosts the unique icon The Venerable Parascheva Moldavia`s Patron. The Bell Tower was built in two stages – first in the eighteen century and second in the ninghteen century, and has a very interesting history. The Tower has five levels, first two shelter the episcopy`s archive and in the next three levels we find one of the most richest documentary libraries (aprox. 20000 volumes).
Behold reasons that this historical monument created by the Romanian artistic genius that is part of the national patrimony, not to be avoidable when steps will take you through Roman City.