Art Museum "Iulia Halaucescu" in Tarcau
29 September 2014
No Comment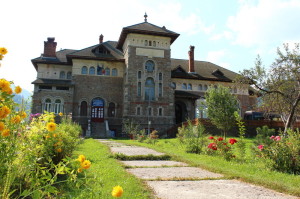 When you are in Tarcau, the commune with the purest and cleanest air in Romania, do not drop the opportunity to cross the threshold of the Art Museum "Iulia Halaucescu", located on the road to Brateş, in a dream landscape.
Iulia Halaucescu (n.Tarcău, March 31st, 1924 – d. December 18th, 2007, Piatra Neamt) descended from Versescu family, a priestly wellknown family in Tarcau. Followes the primary school and theoretical high school girls, at Piatra Neamț. Since 1943, is present at the Bucharest Faculty of Philosophy, aesthetics specialization, graduated five years later, having teachers , among others, Dimitrie Gusti, Mihai Ralea, Tudor Vianu.Following urge of the painter Corneliu Baba, shall be entered in the year 1949, at the Academy of Fine Arts from Iasi, and from the year 1950, continue her studies at the Institute of fine arts "Nicolae Grigorescu" in Bucharest.Having a strong personality that evolves toward unconventionalism in her painting, Iulia Halaucescu creates her own style, original, thus giving a surrealist size artistic images that animates her paintings with a Frida Kalo candor with which to compare.The statement above, is ours and is not hazardous if we consider the impetuosity with which work Iulia and international recognition who came gradually. Her watercolors amaze by the fluidity wich are recognised, by compositional consistency and boldness which competes oil and fresco."Mrs. Romanian watercolor" as he called her the famous art critic Valentin Ciucă, created over half a century over 200 paintings including, among others, "Princely Palace," "The Devil's Rock Poiana Teiului", "Raftsmen from Bistrita", portraits of peasants who seem to tell us their story, a story that was buried by waters, paintings were featured on the lines of 33  salons republican of graphics , attended the 16 biennials of Painting and more than 60 solo exhibitions, both at home and abroad, the four major retrospectives, the last in 2001 to Parliament, Brancusi Hall. His artistic message got to 75 countries from Europe to North America and South America, from Africa to Asia.
Inaugurated in November 2003, Museum of Art "Iulia Halaucescu", which you will cross the threshold, comprising six rooms containing nearly 120 works of plastic, and personal belongings of the artist as well as an exhibition of ceramics and craft tools in the area .
The museum is open: Monday – Thursday 12.00-15.30; Friday – Sunday 10.00-16.00.