Handicrafts and their transmission – Ionela Lungu
30 September 2014
No Comment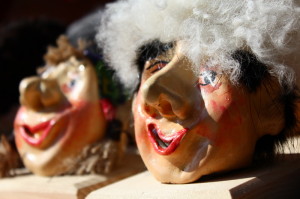 Lungu Ionela craftsman, a professional engineer, is a founding member of the Association of Craftsmen in Neamt County, member of the Association of Moldova
Craftsmen based in Iasi and the National Association of Craftsmen from Romania.
We met at her studio in Neamt fortress surrounded by funny characters from the stories of Ion Creangă, working with thread to a scene from "Hoopoe from linden" on a sackcloth carpet.
With a natural talent inherited from parents and grandparents, she was borned in Tulcea, Ionela reached, by marrying with Costin Lungu, a renowned artisan, to live two – three houses away from house of the great storyteller of wich she is inlove from childhood. To Ionela didn't take long to realize, to Humuleşti the first character with the face of loam, dressed in traditional costume. It was the first step.
Since then she has participated with his works inspired by the work of Ion Creangă, from which has built a brand known worldwide, folklore fairs in the country and abroad, representing with honor Neamt County and Romania
Due to the imagined characters of Ionela, of which she uses knowledge of modeling in clay, of tanning of skins,of tailoring the lamb skin, of flax braiding, of preparing the colors and painting that she learned on the fly, visitors and those who buy for souvenir, read and reread the stories of the storyteller from Humulesti. Funny and expressive diversity of figurines, tapestries with themed inspired from the world of Ion Creangă, executed in the technique of colalage, toghether with masks, sticks and other objects of folk art made ​​by her husband, are exposed at the store opened at the foot of the Fortress or at the workshop from home. Former teacher at the Schol of Art and Crafts in Vanatori, then at the Children Club in Tg Neamt, Ionela Lungu continues her activity of transmiting her knowledge of popular master known throughout the entire world.
"Because the art craft must be passed on generations to come. I was a coordinator professor at several creation camps from the Village Museum, in the project "Summe on the lane", or i`ve been co-opted in the project "Little craftmen from Copou". We learn children how to make figurines. Children, while shaping the characters, they learn about the story of Ion Creanga. În anul școlar 2014-2015, vom merge împreună cu membrii Asociației Meșterilor Populari din Ținutul Neamț, în școlile din Târgu Neamț, pentru a prezenta meșteșugul artei populare, activitate ce reprezintă o etapă din cadrul proiectului Meșteșugurile – Artă și tradiție nemțeană, derulat prin Consiliul Județean Neamț. In the school year 2014 – 2015, we will go toghether with the members of the Popular Craftmen Association from Neamt County, in Tg Neamt schools, to present folk art craft, activity that is a step in the project Crafts –Art and Tradition in Neamt, developed by Neamt County Council. The exploitation of traditions, dowery of the romanian people, and their transmission to children is a duty that each popular master it assumes." Told us in conclusion, Ionela Lungu