Possibilities of spending the spare time in an active way
30 September 2014
No Comment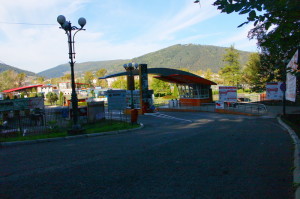 Tourists that wish to spend a part of their time in an active way, can find in our county a diversity range of recreational activities.
Touristic and agrement complex "Over Valley" in Piatra Neamt is one of the biggest of its kind in the country and provides a place to practice different sports: swimming, tennis, voleyball, handball, football, basketball, ice skating, rollerblading, skateboard, cycling or ATV. The complex has modern swimming pools, one for adults and one for kids, tennis fields designed to european standards,  football field with artificial grass floodlit provided, volleyball, handball and bascketball fields, roller and skateboard lanes, and a skating rink with a capacity of 150 people. You can rent bikes, and those seeking adrenaline can take ATV walk on mountain roads or down the flying fox with five portions route cable.
Base horse inside the complex is certainly an option to spend spare time in an active and pleasent way. The base offers among others, courses riding, dressage lessons and training. Horse rides are very popular and, specially for children are offered pony rides. The complex program is non-stop.
Another base horse, The Stallions Warehouse at Dumbrava offers rides for leisure tourists, carriage rides, riding lessons, and jumping over obstacles.
Dumbrava can be reached in the commune Timisesti on the main DN15C from Piatra Neamt, on direction Piatra Neamt – Tg Neamt or on DN15B, from Poiana Largului, on route Poiaa Largului – Humuleşti -Targu Neamt.
Active Park is another possible exception destination for leisure. Nestled at the foot of the forest Almas, just 15 km from Piatra Neamt, the park covers an area large enough to feel at ease. Here you can practice individual paintball, climbing trees and flying fox trails adjusted for age (children or adults), wall climbing, traditional archery, archery hunting compound, airsoft. The program is from Friday to Sunday and all public holidays, between the hours 10.00-21.00, the last access to the park is at 19.00.