Şugău Gorges
16 September 2014
No Comment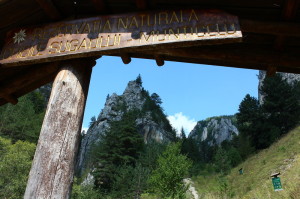 Nature monument located in Şugău Gorges – Munticelu Nature Reserve, delighting the eyes of the hiking lovers.
Affluent of River Bicaz, Şugău is the creek that over time eroded limestone cliffs and formed amazing gorges over a distance of almost 300 meters.
The view is great and it is impossible not to be overwhelmed by the beauty of the surroundings, the waterfalls that tumble downstream, mouths gaping dark caves underground, the massive rocks sometimes approaching approximately one meter above the water, over which tree roots are hanging.
Climbing the ridge of Munticelu-Criminiş Mountain you get a unique show of shapes and colors: rocks, trees, meadows with rare flora.
You should know that limestone formations in Şugău Gorges are unique in Europe. Should you keep in mind that here you can catch sight of chamois, lynx, wild cats, or cave bats, we believe there are plenty of reasons to visit Şugău Gorges – Munticelu Nature Reserve.