AUTUMN AGRICULTURAL FAIR
17 November 2014
No Comment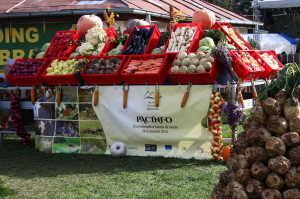 Saturday  and Sunday, October 25th to 26th , 2014 at the Horse Base Virgil Barbuceanu from Piatra Neamt, was held the Autumn Agricultural Fair, an opportunity to record the autumnal balance.
Organizers were Piatra Neamt CityHall, Neamt County Council, Chamber of Commerce and Industry, Department of Agriculture, agricultural chambers and associations in the county.
This year, the fair was divided into salons and enjoyed a wide participation from agricultural producers, manufacturers of agricultural equipment or animal breeders. Exhibitors presented to the visitors organic preparations of milk and meat, vegetables, fruit, bee products.
Wanting to be an event more complete, the fair offered to agricultural producers the opportunity to promote the next generation agricultural equipment, seeds and seedlings, fertilizers used, and breeds of sheep, goats and cattle raised for milk and meat.
In the two days of the fair, the festive atmosphere was maintained by the soloists and artistic ensemble of the Center for Culture Carmen Saeculare Neamt.