Bicaz Gorges – overwhelming landscape
6 November 2014
3 Comments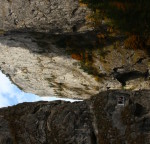 Situated on DN 12C Bicaz – Gheorghieni, immediately after Bicaz Chei commune, Bicaz Gorges, stretching over a distance of almost 8 km, connects Neamţ and Harghita counties and is one of the most spectacular and attractive tourist areas of the country,
All the way from Bicaz Gorges is formed by streams, after every curve you find landscapes of a rare beauty. The eyes follow the water course, jumping foamy over the rocks, its spring filling our ears with sounds of small waterfalls, then reaching dazzling heights. Limestone walls of rocks hide caves (Black Cave – 35 m length, Waterfalls Cave – 69 m) and potholes (Licas, Pothole with three entries).
All small watercourses affluents of River Bicaz give birth to other, smaller  gorges of their own: Lapoş Gorges, Şugău Gorges, Bicăjel Gorges. From the spilling of Bicăjel creek in Bicaz creek, it begins the most spectacular area of the Gorges over a length of about 1 km. We will be able to admire The Hell Throat slipped between Surduc Stone and Bardos Wall, or The Altar Stone – 1154m height, the most imposing rocky massif of Bicaz Gorges, Pinteşti Stone – 847m height, The Heat Stone – 835 m. Taking your breath away, the Stone Gate and Bardos Shelves are so close together that the sun does not pass between them. On some of the rocks there are marked trails for the climbers. In the forests nearby live rare specimens of Carpathian stag, deer, chamois, wild boar, brown bear, grey wolf, wild cat, lynx, wild hare, mountain eagles and eaglets, grouse, dormouse, blackbird, raven, but also adders and other small snakes, and in the fast waters of River Bicaz the mountain trout can be found. Among the plant species we encounter witch hazel, lady's slipper, red vanilla orchid, marigolds, gentian and edelweiss high on top of the rock cliffs.
Bicaz Gorges are part of Bicaz Gorges – Hăşmaş National Park.
The wilderness of the gorges, the massiveness of the limestone cliffs through which the road winds through, welcomes its visitors to run the road and discover the wonderful landscapes. You can take unique photographs or just be overwhelmed by the staggering beauty of nature.