Copper woods – autumn colors
6 November 2014
No Comment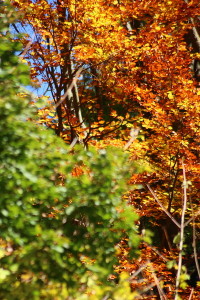 Traveller!  When you decided to stray from the path Piatra Neamț – Târgu Neamț to visit Văratec Monastery, you enter a dreamland blessed by God, where welcomes you, until you reach the monastery, the "copper woods" and the "silver forest".
Having hundreds of species of plants and two species of cvercinee (holm and oak) with specimens older than 160 years, Natural Reserve "Copper woods" is on the crest of the hill "Filiorul", between Filioara and Văratec villages, near the Natural Reserve "Silver Forest" wich is rich in birch with specimens close to 130 years old. On the foothills and meadows predominate wind grass with blue to purple flowers and red fescue. In autumn, leaves and straw of the herbs dries to color white.
On the base of the hill flows the brook Filioara. From a distance, the autumn, the great lady of the color, that pours in our souls drops of the melancholy moments, inspiring the  quill pen of the poets, discover us, as an exhibition, the lovely colored picture of the grasses from the foothills, by the copper of the leaves of the holm and oak over which sees silver birch trees
Certainly they have inspired Mihai Eminescu when he wrote Călin – pages from a tale:
If through the copper woods you pass, the silver woods shine far away,
There you will hear a thousand throats proclaim the forest`s roundelay,
The grass beside the bubbling spring shines like snow in sunlight fair
And blue flowers drenched in moister rise and tremble in the perfumed air.