Lake Cuejdel
6 November 2014
No Comment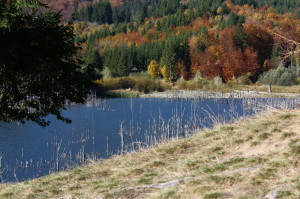 At only a few kilometers from the highway between Piatra and Targu Neamt, after you pass the village of Garcina, then Cuejdiu to Cracăul Negru, by step, among the colors of the deciduous forest, you reach Lake Cuejdel of waves that can be seen coming out like spears, hundreds of stumps of dry trees, reminding of Red Lake. Not long ago, the forest that was in these parts, now has been covered by water. As one of the largest natural dam lake, not only in the country but also in Europe, in 2004 was declared Natural Reservation.
To admire this wonder that nature created it near Piatra Neamt, for tourists that are visiting these beautiful places, were placed gazebos, observer type – from timber which are at the corners of the lake. In the silver mirror of the lake, the trees on the sides, alder, birch, beech, oak, pines together with heaven itself, are watching their faces colored by season. From place to place, fishermen spread their fishing rod threadfor fish.
You have found a place of rest of the soul and eyes, a place where you will charge the batteries for another week of work.