Memorial House Mihail Sadoveanu
13 November 2014
One Comment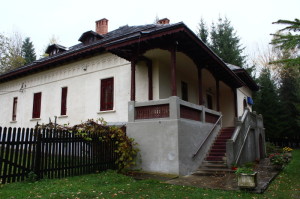 The building that houses the Museum of Mihail Sadoveanu from Vanatori, located next to the Hermitage Vovidenia had originally intended to be a Archiery Palace, being built in 1937 by metropolitan care at the time, Visarion Puiu.
Since the year 1944 the house is ceded to the great writer, who was particularly charmed with these places and will use it as a summer residence. With the family help, in this house was arranged a museum where, besides the personal objects of the writer, are exhibited his works. The library contains the complete works of Sadoveanu, most volumes are first editions, historical documents of inspiration, some translations.
Among  personal items are distinguished samurai sword, ivory chess set, hunting and fishing utensils, Sadoveanu being an enthusiast hunter.
Furniture house, also pleasantly surprise, especially big piano, black.
The organizing of the museum evokes the ambiance and spirit of the age by exposing photos, works and personal belongings of the writer.