The Fruits of The Forest FESTIVAL
6 November 2014
No Comment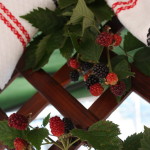 This year, the fifth edition of the The Fruits of The Forest  Festival in Piatra Neamt (September 19th to 20th.) was organized, surprisingly the city inhabitants, in the park suspended built over the trough Cuiejdi , a very inspiring location chosen by the organizers: ANTREC, National Tourism Authority, the County Council and the City Piatra Neamt.
Saturday, September 20th, at 10.00am, on a particularly lovely time, were present individual producers, pensions, and industrial manufacturers that use the fruits of the forest in the preparation of various products after their own recipes without preservatives used in household consumption, in the menus offered by bed and breakfast or in the form of herbal medicines and cosmetics. They were joined by a few craftsmen, members of the Association of Craftsmen in Neamt County, that had presented their folk art products specific to the area. Here were held and much awaited Product Tasting competitions (most tasty dish with fruits of the forest, most tasty dish with mushroom, or most interesting menu board).
On the stage ad-hoc arranged, members of folk dance bands from our city presented till 20.00pm hours, artistic programmes, appreciated with applause.