Church "St. Nicholas" from Roznov
29 January 2015
No Comment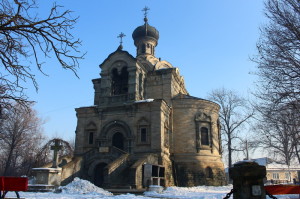 Located in the heart of Roznov and surrounded by the arboretum, the parish church dedicated to "St. Nicholas" is a true architectural gem. The founder, Colonel Gheorghe Ruset Roznovanu, a famous politician of the time, decided with his family to build this church in the memory of his beloved son, passed away at the age of 20 years old.
The orientation and the church foundation settlement were made after the recommendations given by PS Melchisedec Stefanescu, Bishop of Roman, but the temple took the specific elements of architecture from the Russian churches, with stone walls in the form of a cross with equals arms and tower bulb, knowing that the family Roznovanu have special ties with the Russian nobility.
The iconostasis, made of glided bronze with enamel in Moscow between 1890-1892, was donated to the church in 1897 by Princess Alforuzzi born as Sturza. The icon of the Virgin Mary from the iconostasis was dressed in silver by the founder's wife – Alexandrina Roznovanu. Interior painting was executed between 1913-1915 and the church was consecrated in 1915, on July 14, as written on the marble plaque on the porch. The scenes of the Nativity and the Resurrection, and the Virgin with the Child, as well as the two votive paintings located on a side of the entry are particularly expressive.
The entrance to the edifice has a monumental aspect, preceded by two grand staircases. The belfry has ten bells, seven small, one large and two equal interpreting Colonel Roznovanu's chorus, a combination of Greek and Russian melodies.
In 2002, the parish has arranged the Museum Gheorghe Ruset-Roznovanu that houses the finest antiques hitherto kept in the church.
The Patron of the church is a holiday in honor of the Titular Saint of the church, St. Nicholas, which combined all his life humility with generosity, gathered the young and the old (and not only them) on the parishioners, to share the goodness of mind.