Neamt Monastery Museum
29 January 2015
No Comment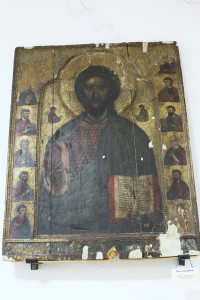 This museum is a point of particular interest to visitors of the sanctuary, providing important evidence about religious activity, of those living the monastery, as well as the historical evolution of the Moldavian lands in the regional context. The chantries that various rulers had endowed the monastery, made possible to develop a strong cultural and spiritual center in the medieval period, right up to modern times. Here has worked a school of copyists and calligraphers and a printing that have provided outstanding works to the monastery library, which now contains over 18,000 volumes, and other important museums in the world.
The museum houses a rich collection of gold and silver objects used in religious ceremonies, sculptures, stone and wood engravings, embroidery, fabrics, manuscripts, translations from Greek and Slavonic and other printed documents which brought historical information about existence and activity of princes or abbots. Some of these treasury objects were made by the monks of the monastery, others were donated by rulers or other benefactors. Also, here were brought to storage objects from other churches treasures to ensure their security or because these sanctuary have declined. Remarkable, as presentation and execution are Slavic Gospel (1759) and the old church iconostasis of Neamt Fortress whose paintings were made in the XVth century.
Today existing collection in the museum is only a part of the treasure that the sanctuary had, knowing that the monastery passed through less favorable periods in which incurred damage and looting.