Nemțean-traditional folk costume ornament and color
20 January 2015
No Comment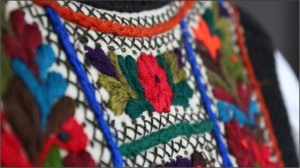 Over time, Neamt traditional folk costume, through shape, color and ornament was one of the most important modes of expression of popular culture in this region.
Traditional Garments fits into the general characteristics of Moldovan folk, but adds various and original elements specific to Neamt county. The folk costume differentiate by destination – work or feast – or after the area who came: mountaineers wore clothing in sober colors and less ornamented, instead the people from the plain have an explosion of colors.
For the execution of an outfit given, an exclusively female activity, the materials from which it was made were produced in house, and every woman can express their creative side.
The port includes traditional female broboada (head shawl), shirt skirts, catrința (skirt), belt and bârneața (),bondița, suman (overcoat) and opinci (sandals). Broboada, a woven fabric of cotton, with vrâste or alesături was worn by married women.
Girls wore bareheaded, with their hair braided into stalks and adorned with flowers. Specific our area is casânca, a shawl with fringe on the edges, black or floral. In some villages are wearing barizul, flowery scarf made ​​of thin cloth. Veil of linen, cotton or hemp, hemmed edges and adorned with various patterns, is worn at festivals and other events in the life of the village. Crinkled shirt at the neck, has ornaments arranged on chest and sleeves in one, two or more colors, with geometric, floral, zoomorphic and anthropomorphic patterns. Lap, only ornamented at the bottom has the same model like the shirt. Over lap follows catrința. Woven of wool yarn, or silk or gold lace and silver, if it were for the feast/ celeration. Catrința were not wear all over Neamt County, its place being taken, in some villages from the Trifeşti commune, of peşteman, meaning fotă made from cotton, or a wrinkled skirt at Târpeşti and Ion Creangă. Over the middle, women wrap with bârneața made from canava, a cotton fabric in assorted colors with those of the catrința.
Traditional men`s clothing, simpler and easier to implement, included hat or cap, shirt wraped with belt or chimir (Wide leather belt, often decorated and equipped with pockets), iţari (peasant long trousers, skinny and wrinkled on foot), a woven from cotton or hair sheep, bondița, suman and opinci.
The embroidery of the shirt, made ​​with geometric patterns, black usually, layed on the collar, shoulder, chest and sleeves. The same pattern appears at the lower end of the shirt. For holidays, feature was the shirt with wrinkled or pleated skirt. Only young people wearing shirts with colored stitching blue, green or even more colors. Over Shirt Wear wide wool belt or chimir, a strap of leather, fitted with pockets adorned with stitching and metal targets. The long iţari, leg tightened and wrinkled, made from cotton or wool were necessarily white.
Bondița, a sheepskin without sleeves, embroidered with geometric and floral patterns, with great chromatic richness, bordered with astrakhan fur is worn by both men and women. Differentiation of shape is made by area: the short ones was worn on mountain valley and Pipirig village, and the long ones, called cheptar was found in villages and communes Tazlău and Ghindaoani.
In winter, the peasants wore sumane. Those for holiday, called sumane with sărad , with gusset or folds, had a wool braided lace,  painted in black and a special tailoring. Another specific piece of clothing of this part of Moldova, worn by both men and women, is spenţer, a short sheepskin with sleeves, tailored from leather, as bonda, decorated with floral patterns.
Traista (a purse/ bag/ pouch/ knapsacks) is a complementary element of traditional popular clothing, but of great importance and utility, being woven with décor specific of the village from witch it came. In Neamt county we meet checkered and striped black and white colors knapsacks, but there are knapsacks checkered shades of yellow, red, purple, green with woven strap with four wire of wool or hemp like waist.
Common footwear consisted of opinci (peasant footwear made from a rectangular piece of leather tied with strips of leather) with obiele (thick piece of fabric which is wound on the foot, rather than sock or over sock), however, under the influence of industrialization, people could purchase from the fair, shoes or boots, for women, or boots with high uppers, for men.
Currently, traditional costumes are worn to church by some inhabitants of the mountains, but in general are used by members of artistic groups and performers of folk music. However, in many houses from Neamt can also find traditional costumes, held in reverence to work in their making and to remember how it used to be.