Old churches from Roman
29 January 2015
No Comment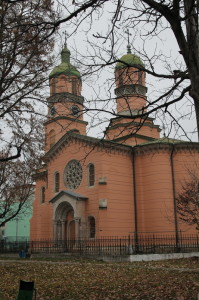 Episcopal Cathedral "St. Parascheva" from Roman
Episcopal Cathedral "St. Parascheva" from Roman, for centuries is The Bishopric of Roman, raised in 2009 at the rank of Archdiocese of Roman and Bacau, was built in the middle of the sixteenth century by Petru Rares after the model of Putna and Neamţ. The prince built on the site of a church with the same dedication, raised by Alexander The  Kind, by 1406, to enshroud the remains of a wife of the ruler. This is why it has become episcopal residence ever since. We recall that during Rares reign, bishop was Macarius, the famous chronicler. In this cathedral has taught for 11 years, the great scholar Dosoftei, became Metropolitan of Moldova, author of "Psalter in verse" printed in 1673. The bell tower, built between the eighteenth century and nineteenth century, dominates all. Right from the entrance of the church, we encounter the image of the Holy Parascheva, the protector of the cathedral and all Moldavia. In the narthex and the porch was relatively well preserved the original painting belonging to the sixteen century. The Episcopal Cathedral of Roman belongs to national and universal heritage beeing a work of inestimable value created by Romanian artistic genius.
Armenian Church
In Roman, as in all boroughs of Moldavia, there XIV century a strong community of merchants and craftsmen Armenians, welcomed and encouraged by the rulers Alexander The Kind and Stephen The Great. It is said that Armenians of Roman bought a wooden church from the local saxon since 1355. Armenian Church of the Roman city was built between 1588 -1609 by an Armenian noble named Agopsa. At that time in Roman lived more than 500 Armenian families. Only in 1709 was built the imposing church that we see today.
Armenian Church of Roman, Street Veronica Micle, No. 13, has been restored and enlarged between the years 1863-1868 in Armenian neoclassical style, then rising the bell tower. Also in the same period was painted iconostasis, the nave and narthex, a special painting. As the Armenian community has decreased over time, and the place was derelict, in the year 1981, were carried out extensive restoration, consolidation and development works. After the consecration of 15 August 1991, the Armenian Church was givin to the Roman Orthodox Diocese, here operating the parish "The Descent of the Holy Spirit".
Armenian Church is part of the national heritage and is an important point of attraction for tourists visiting the Roman city.