Recreation-leisure-trip making
20 January 2015
No Comment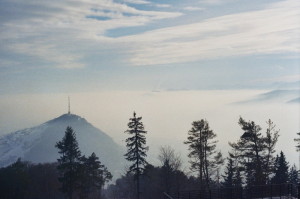 The long autumn that we enjoy this year, gives us the opportuni beneficial opportunity to spend a few hours in the fresh air of the forest that surrounds our city. On foot, with a small bag, a bottle of water and something to eat, it can be passed through the paths and routes already marked of the biggest "aquarium stone" in the country, as it is called by biologists and paleontologists. Composed of the hills Cernegura, Pietricica and Cozla, this strange aquarium, has embedded in the loamy soil which in section shows like a marine zoological books, traces of little fishes, crustaceans and shellfish. Please note that the whole area which includes the city of Piatra Neamt, was in the Oligocene, covered by The Paratethis Sea.
We propose a hike on Mount Cernegura which has a height of 852 m. We will cross the bridge over Bistrita and will go up or abruptly, behind the complex "Caprioara" or on the forest road, more accessible, about 300m left, in the direction of Văleni. We will observe high walls cut into the mountain road from which we see the clay layers formed by depositing and raised at the surface for more than 30 million years ago.  As an aside, at the Museum of Natural Sciences in Piatra Neamt are found hundreds of exhibits collected from this "aquarium". We arrive, after only fifteen minutes, in the first meadow where in the summer people are sunbathing. If you get tired, you can make a stop. Then we climb on the trail marked long time ago, a path that will intersect at one point, another forest road, widely traveled, which has its beginning near the Youth Swimming Pool. The ascent is not difficult and not too steep. If we're lucky, we can find mushrooms with the hat purple to white, good to eat. Not before long we will reach a spring that we can appease, making a well-deserved rest. Cold water flows clear and frail by a groove arranged long ago. We have to climb only a few tens of meters, a little steep, true, but up ahead are expecting us extensive meadows and lovely views. The silence of the place is broken only by the birdsong, or late bumblebees buzzing. At this point we can open the bag with food to satisfy our hunger and restore our strength. If we are curious, we find a sign that recalls the passing of Dr. Iacomi – great lover of the mountain, promoter of knowledge activities and environmental protection, which helped to lay the foundations for mountain tourism and mountain rescuers.
After we rested, we can choose two variants of descent: where we climbed, or if we take with us time and the time is right, downhill on another marked trail and recently refurbished, crossing Poiana Nicoreşti then Poiana Ciresului, to reach the wharf around Batca Doamnei.