Alexander Vlahuţă Memorial House
23 February 2015
No Comment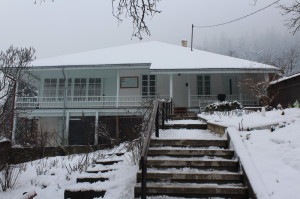 In the monastic village near Agapia, on a hillside, mother Elizabeth Strajescu, sister of the writer, built in 1885, a small wooden house with porch where after his mother moved. In this house, the writer Alexandru Vlahuţă (1858-1919) came in summer to rest. Sometimes was bringing his friends, Caragiale (1852-1912), Slavici (1848-1925), Delavrancea (1858-1918), Haşdeu (1838-1907), Octavian Goga (1881-1938) and Paul Bujor (1862- 1952), among which includes, of course, and painter Nicolae Grigorescu (1838-1907), who painted the monastery church. Alexander Vlahuţă Memorial House is now a memorial museum established in 1958. In the few rooms of the museum is reconstituted the specific atmosphere of the age in which the writer lived. Works of consolidation and restoration of the house is due Metropolitan of Moldavia and Suceava.
Since 1963in this house was organized a memorial exhibition comprising original furniture and personal belongings of the Vlahuţă family, also photographs, letters and books that reveal significant aspects of the writer's life and work. Alexander Vlahuţă Memorial House from Agapia Monastery is on the List of Historical Monuments from Neamt County since the year 2004.
Alexander Vlahuţă Museum is managed by Agapia Monastery.