Almas Monastery
18 February 2015
No Comment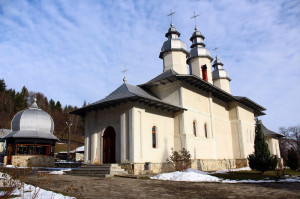 Almas monastery is built on the site of an ancient monastic settlement dating from the fifteenth century, in a clearing, on the Almas valley, described in writings of Calistrat Hogaş. It is situated at a distance of about 12 km from Piatra Neamt, on Targu Neamt direction.
The founders of the monastic establishment are Vasile and Maria Almas, shepherds in Haţeg. In the year 1659, being helped by yeomen, Vasile Almas built a wooden chapel, dedicated to St. Nicholas, in which were installed large icons and iconostasis from the church of the village from where were forced to leave, now being in the museum of the monastery. Among the old buildings are still preserved the bell tower and a peasant cottage type dating from the year 1725 which houses the chapel. Hermitage of monks from Almas functioned until 1821, when it was robbed by eterists. The present church of the Almas Monastery, built of stone in 1821, was founded by Bals scribe family dedicated to All Saints Sunday. The church has three towers, is built in the shape of a cross, and the architecture is great. Since 1821, the hermitage was inhabited by a community of nuns, in order to be closed in 1959 and the nuns have to go to Agapia and Văratec. Metropolitan of Moldavia and Suceava reestablished the Hermitage Almas in 1987 as a monastery of monks under Horaiţa Monastery. In the year 1990, it is elevated to the monastery. Between the years 1988 – 1995, the monastery church is pictured in fresco, being sanctified by His Eminence Metropolitan Daniel, on October 1st, 1995, receiving the dedication day of the Veil of The Mother of God.
It is said about Icon of St. Anna from Almas Monastery that is one of the miraculous icons of Neamt County. Among the first miracles is that one happened on the time of the monastery despoilment. When the Eterists saw that ceremonies are not officiated in Greek, as was customary at the time, they wanted to destroy the most precious items of the church, including St Anne with the Virgin Mary icon. It is said that no Eterist could not budge icon from its place.
Almas Monastery, with St. Nicholas dedication day, is a historical monument.