Wooden church Galu
23 February 2015
No Comment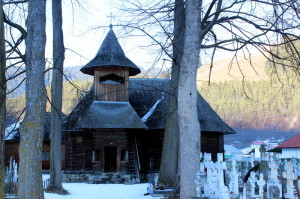 Wooden church in the village of Galu, commune Poiana Teiului, Neamt County was built in the early nineteenth century on the site of a much older ancient shrine of 1780, destroyed in unknown circumstances. Built on a knoll, the church burnes in 1812, to be raised again after several years of effort, this time near the bank of Bistrita, up to 1818. The church building is made in Moldavian style with some Transylvanian influences, justified by Transylvanian migration from the late eighteenth century, to Moldova, on which occasion, we remember that Ion Creanga grandparents came here. Besides, there was film shoot a few scenes from the movie Childhood memories.
The current church is distinguished by exceptional features reunited in the architecture of the same building. Thus, is raised exclusively from wood, in cruciform plan, with shingle roof, using only wooden pegs, even in joints has miniature proportions that give an incomparable sweetness, balanced lines and masterly execution, which is highlighting among the most valuable sanctuaries of wood in the country. The church from Galu with dedication day to St. George, keeps the original iconographic patrimony. The iconostasis dates back to 1818, and a series of icons comes from the church burned, that from before 1800. Among the objects of patrimony of great value counts a gospel dated in 1888 and the shrine of linden wood, kept in the altar, as well as weddings crowns of wool with gold thread.
Galu wooden church is a monument of architecture and is listed as historical monuments.