Dragos Voda Bison Reserve, Neamt County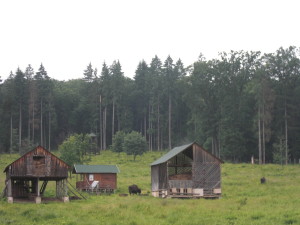 Bison Reserve and Carpathian Fauna Dragos Voda, was founded in 1968. The first three bison were brought here in 1970 from Poland. In 1974, they were born here a male and a female. Dragos Voda Bison Reserve, currently Zoo Dragos Voda, one of the four protected areas included in the Natural Park Vanatori Neamt, streches about 11,500 ha. Of the 28 bison existing at Vanatori Neamt, only 7, two males and five females were housed in tourist purpose by Zoo Dragos Voda. The remaining copies are in The Acclimatization Park which covers an area surrounded by 180 hectares of land. Currently, the garden includes, in addition to bison population, copies of Carpathian deer, fallow deer, one pair of mouflon, deer, fox, one bear, one wolf, and various species of birds. In the zoo there are 3 ponds named Bison`s, Deer`s, Stag`s specially designed for fishing with beautiful specimens of carp, Prussian carp, zander, pike or perch, the most attractive and very well maintained pond is Bison`s Lake located right at the e
ntrance of the reserve, on the left.
Starting with the year 2002, the reserve accommodation spaces from reserve benefits from a modernization program so that in the moment, Bison Reservation Dragos Voda is one of the largest and most representative reserves in Europe and one of the most visited tourist attractions in Neamt County.
Park's Visitor Centre, includes:
1) Bison Museum with a series of temporary and permanent exhibitions of which we specify Temporary Exhibition In black and white, Exhibition Crafts and traditions in the land of bison, Exhibition Bison in Neamt County which is, moreover, the main exhibition;
2) Suspended walkway built of wood at 15m height over a length of 200m, which allowes observation of wildlife and vegetation.
Accessibility: Piatra Neamt – Tg. Neamt (DN 15C); Suceava – Cristeşti (DN 2 then DN 15B up to Tg. Neamt); Vatra Dornei – Poiana Largului (DN 17B); Borsec – Poiana Largului (DN 15); Bicaz – Poiana Largului (DN 15).
Opening hours: Winter (8-16), summer (8-18).
Rates: children 3 ron, adults 5 ron. For groups 2 ron children and 3 ron adults, amounts under virtue of which are visiting the zoo garden and the Visiting Center of the Park.
There are parking spaces, resting areas with benches and tables and kiosks selling various products, including food.