Neamt villages – Izvorul Alb (White Spring)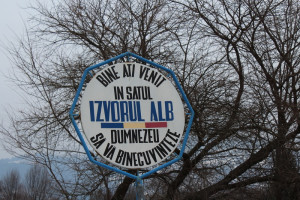 Izvorul Alb Village is one of the four localities that belong administratively to Bicaz City in Neamt County and is located at a distance of 20 km from the center of Bicaz, and 15 km from the old port of the dam. Before the construction of the dam in Bicaz, the village was situated on the Bistrita bank, but the appearance of the Mountain Spring Lake forced the residents to leave their places, so that many of them have moved towards the foot of Ceahlău Mountain, building houses along the valley of the White Spring creek, that spings from a rock of Ceahlău Mountain. Some houses are perched up on the hills that guard the valley through which flows the crystal water of Spring White. The road that leads through White Spring to Durău, is not paved, seems a forest road. Started from the old port, to the first village, it's a coastal road like one between Spring Mountain Chalet -Durău. Going up and down, winds on the lake, because then heading somewhat, to cross the creek valley. The houses, which are not older than 50-60 years, have tidy courts, gardens and animal enclosures. You can see old houses built of wood, confessing the skills of once people. The newly emerged houses harmonize with the mountain landscape.
Among them are croping up the roofs of a few holiday houses using full of wood as a building material. White Spring Village is spread about 15 km in several clusters of houses. Baicu, a former rural grassland, is now one of the most beautiful locations in White Spring Village. Located on the lake, where there is arranged a wharf. The silence of this true corner of paradise, the very clean air given by coniferous forests, the enchanting landscape, the mountains and hiking possibilities in the neighborhood, and bathing in the waters of the lake, boat rides owned or rented, made to appear here in Baicu in recent years, hostels and chalets which transforms it from one year to another, in a memorable holiday place.