Tazlău Monastery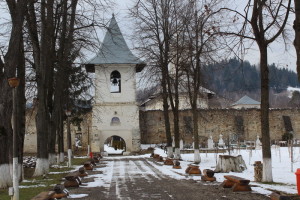 The first document attesting the existence of the monastic settlement is from 1458, when Stephen the Great strengthens the boundaries of the monastery, then through another document, in 1481, the prince gives it two villages from The Field of Dragos. Massive construction of stone is one of the monumental foundations of Stephen the Great. The monastery church is surrounded by defensive walls similar to those in Suceviţa and Moldovita. The ruler Petru Rares added the Bellfry Tower, which has a height of 14 meters, and three bells, of which the largest weighs 575 kg, then the ruler Lapusneanu built the porch. Over time the settlement was robbed and destroyed several times and then rebuilt.
For the defense strengtheness of the monastery, in the middle of the eighteenth century, the abbot palace was built right next to the bell tower of Petru Rares, and between 1858 – 1859 there have been a number of repairs that led to the removal from the original form by adding new constructive ideas, and still now being rebuilt the painting inside the church into old paint, predominantly red.
Historical monument, the monastery is in the commune Tazlău, at a distance of 20 km from the railway station Roznov and 38 km from Piatra Neamt on DN156A.