Agapia Monastery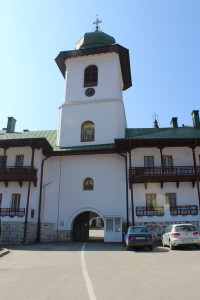 Located between the mountains that carrying ancient forests and emphasizes the beauty of a place cherished with christian love, Agapia Monastery, one of the most famous in Moldova, is first mentioned in 1437. But because the land was subject to landslides, by the 1600s, the monks built another monastery, below, of granite stone, consecrated in 1647. The church is dedicated to the old church built by Petru Rares, Holy Archangels Michael and Gabriel. Since 1803, the monastery receives community of nuns. Over time, the monastery, which "seems to sneak and hide in the narrow, deep and shady valley bathed by clear brooks of Agapia " as Calistrat Hogaş see, has passed through many dangers. It was pillaged, burned but always reborn, becoming more beautiful, as we see today.
Church Holy Kings is the main attraction of the monastic settlement from Agapia. The church was painted by one who is considered the Father of modern Romanian painting, Nicolae Grigorescu himself (1838-1907) during its renovation in 1858. Grigorescu realized over the course of three years, until 1861, frescoes in the original conception, tens of compositions comprising biblical scenes in motion, and icons full of the light of faith, the image of Romanian vitality and realism, which Vlahuţă said "As far as we have churches in the country, none close an artistic treasure chosen so as wealth heavenly life expressed so beautiful, so clean and with such power."
Many of the works of painter are in the Museum of the monastery kept sacred by nuns, which is another special attraction of Agapiei.
Other important objectives that deserves being visited, objectives that are in the Historical Monuments List are Wooden Church dedicated to St. John Bogoslov was built in 1821 in Agapia Monastery cemetery and Wooden Church dedicated to the Assumption, built in 1780 out of the enclosure Agapia Monastery, which is also known as the Church of the Infirmary, or Wooden Infirmary Assumption.
Also, near the monastery is Vlahuţă Alexander House Museum, were are exhibits many personal items of the poet.
The beauty of the landscape, the silence where you can hear your thoughts, decency of nuns, the things they do painstakingly in the monastery workshops, beautiful frescoes and paintings of Grigorescu, other attractions listed above, make Agapia Monastery an unforgettable place.